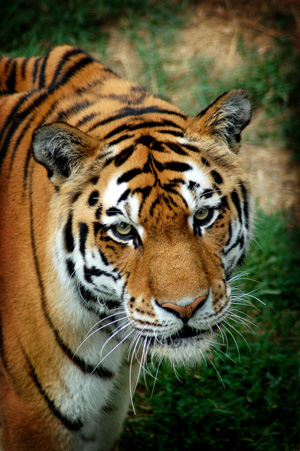 Here, you will find out basic facts about Amur tigers. These facts include a description, size, habitat and diet.



Amur tigers, or Panthera tigris altaica, have golden-orange fur with black stripes and a white chest, belly, throat, and spots around the eyes and muzzle. They usually have green or yellow eyes and a pink nose. Compared to other tigers, Amur tigers have more white and fewer stripes on their body.



Amur tigers can grow up to three feet in height. Male tigers can grow up to eleven feet in length and weigh over 600 pounds. Female tigers can grow up to nine feet in length and weigh about 370 pounds. All tigers have four legs and a tail.



Amur tigers live in the forest tundras of eastern Russia, northeastern China and northern areas of North Korea.



Amur tigers are carnivores, therefore they must eat meat and lots of it. The tiger's diet consists of wild boar, elk, deer, birds, fish and mice. Tigers sneak up on their prey and use their sharp teeth to pierce their prey's skin and kill it. But if the tiger misses its target, it won't be able to chase after it. Amur tigers are not very good runners due to their large shape.